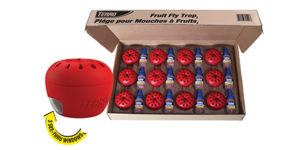 TERRO Fruit Fly Traps are now available from Woodstream in an economical, professional bulk pack containing 12 traps and lures (#T2512). These attractive and highly effective, apple-shaped traps have a new design for increased fruit fly interaction and performance. Traps containing the proprietary improved food-based non-toxic, non-staining lure can be placed anywhere fruit fly activity is seen, including bars, restaurants, wineries and kitchen areas. Once flies enter the trap, they cannot escape. Each trap lasts 45 days and features several see-through windows to easily monitor catch activity.
Learn how to fly for free and travel on your budget by purchasing airline tickets at rock bottom prices
The post Woodstream: Redesigned TERRO Fruit Fly Traps appeared first on Pest Management Professional.
Read more: feedproxy.google.com
Learn how to fly for free and travel on your budget by purchasing airline tickets at rock bottom prices